Jibbitz™
.
[noun]
ji·bits | \ ji- bits \ | dʒɪbɪts .
Fun, symbolic and sentimental
charms to represent your unique self to the world on your favorite pair of Crocs shoes.
Shop Jibbitz™

.
Customize

.
Learn More

.
Find Your Perfect Jibbitz™ Charms and
#FullyLoaded

.

Make Your Crocs Shoes

Shop All

.
How Do You Jibbitz™?
With exactly 13 holes in each Crocs Classic shoe,

grab 26 Jibbitz™ charms and get poppin' to make your pair uniquely you and #FullyLoaded.
Choose Your Canvas And Get Started
.
Frequently
Asked Questions: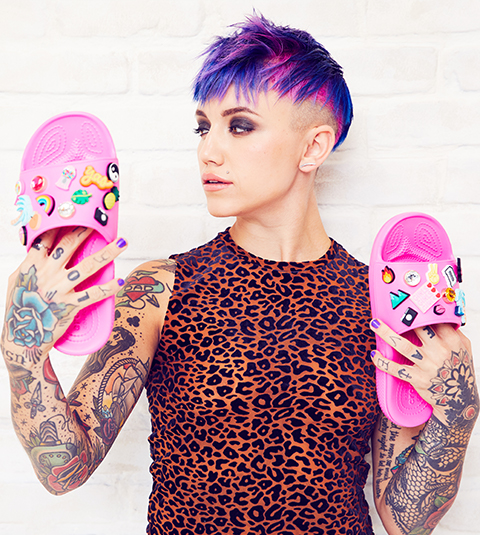 Jibbitz™ charms are fun little images, letters, sayings, characters, and bits of pop culture mounted on a post to pop into the holes of your Crocs Classics. With 13 holes on each Crocs Classic, you can sport up to 26 at a time – or get creative with where you wear them! With a tight fit, your Jibbitz™ charms will stay put, allowing you to show off your hobbies, sense of humor or latest obsession on your feet as long as you're kickin' in your Classics.

There are exactly 26 holes on the top of each pair of Classic Clogs and Slides. Not only do they help with ventilation and let out moisture, but they also allow for you to personalize your pair with your own unique combination of our Jibbitz™ charms.

It may be a little tight, but the easiest way to get your Jibbitz™ charms into the holes is to squeeze the top of your Crocs together into a loose fold, slide one side of the charm post into the hole, and squish it in the rest of the way until it makes a little popping sound. Let go and your charm should be securely in the hole.

To remove the charms, it's easiest to squeeze the top of your Crocs around the hole into a loose fold and ease the post out sideways.